Learn how to quilt and go from zero to a Filmore High grad in no time
Meet your Instructor
Lynn is an award winning quilter, certified quilt appraiser, quilt designer, fiber artist, fabric lover, fabric collector and lover of quilts. That's really just a long way of saying that she is a quilter!
Lynn is active in several guilds and quilt groups. She designs her own quilts and continues to quilt outside of the box, bringing in her natural curiosity about color and how it affects quilt designs.
Lynn is also a former college teacher and an award winning speaker. She has a bachelor's degree from Murray State University and a master's degree from Southern Illinois University. She taught college in Tennessee and in Georgia and has combined her love of teaching with her favorite hobbies of quilting and fiber art. She has spoken and taught at quilt guilds locally in Georgia and throughout the US.
Lynn is also former co-host and producer of the YouTube hit The Stitch TV Show which ran from  2015-2020.
12 Blocks
Get cutting, piecing, and pressing instructions for 12 different quilt blocks. These 12″ blocks are designed in pairs, with a traditional version and modern twist for each set. Block lessons are available weekly after you sign up for the course.
3 Layouts
Choose from 3 different layouts, including modern layout with lots of negative space, traditional medallion layout with bonus 13th block, and the "You Tried" layout that uses only 8 blocks.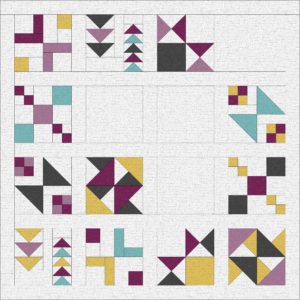 Quilting Designs
Each layout comes with suggestions for quilting designs, from beginner techniques to advanced custom-quilting.
Filmore Learn to Quilt Course Pricing
A $300.00 Value! Get it now for only
82 lessons and over 8 hours of video instruction

Learn to make 12 Blocks plus one bonus block

Each block is explained in a detailed video

Choose from 3 different layouts

One time payment
Lifetime access

Send Lynn questions if you get stuck